Water Damage Restoration: SERVPRO's Process by the Hour
6/23/2017 (Permalink)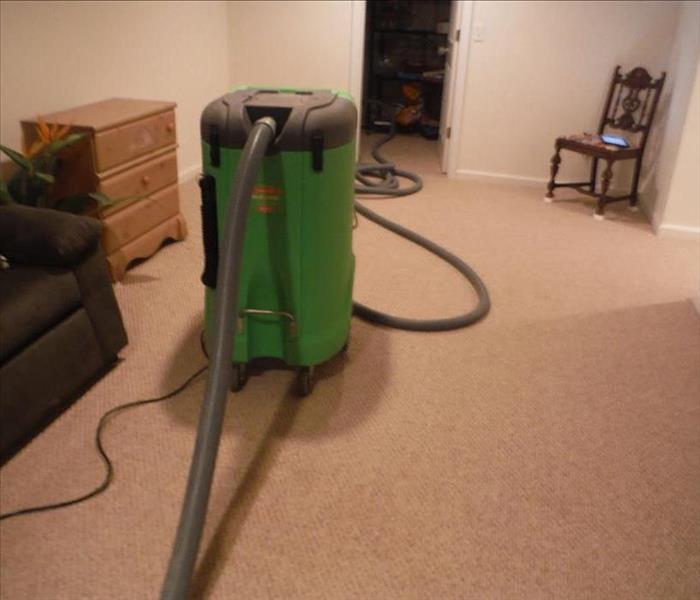 SERVPRO of Toms River in the process of drying out a finished basement in Spring Lake, NJ from a burst pipe.
Water Damage Restoration: SERVPRO's Process by the Hour
Water damage restoration is a process that we at SERVPRO of Toms River have practiced, refined and perfected over the years. Our experts are meticulous yet swift with their response to emergency water damage calls. Here's what to expect when you call SERVPRO for water damage restoration:
One-Hour Response
Within one hour from notice of loss, we will contact you to arrange for water damage service. You'll gain some much-needed peace of mind knowing help is on the way!
Four-Hour Arrival
We will be on site within four hours to begin mitigation services. The key to reducing damage and saving money is immediate action, which is why we guarantee our fast arrival. Once we arrive, we will walk you through each step of the job process, and begin pretesting from the source of the damage outward.
Eight-Hour Follow-Up
Within eight business hours of on-site arrival, a verbal briefing of the scope will be communicated from SERVPRO to the appropriate person, usually the adjuster or property manager.
Cleaning & Restoration
It's difficult for us to give an exact hour in which we will complete cleaning and restoration, because each job has different parameters. But rest assured we will work neatly and efficiently to help you to restore your property to pre-damage form. SERVPRO uses state-of-the-art restoration techniques to ensure your property is taken care of correctly, the first time.
Final Walk-Through
After our work has been completed, we will take you on a final walk-through to ensure your satisfaction.
And that's it! Water damage restoration in Toms River, NJ and the surrounding area is as easy as calling SERVPRO at 732-349-9898 or visit us at SERVPROofTomsRiver/water. When water damage takes control of your life, count on us to help you take it back. Our goal is to make it "like it never even happened.®"