What Is the Fastest Water Removal Method for a Lakehurst Church?
5/9/2021 (Permalink)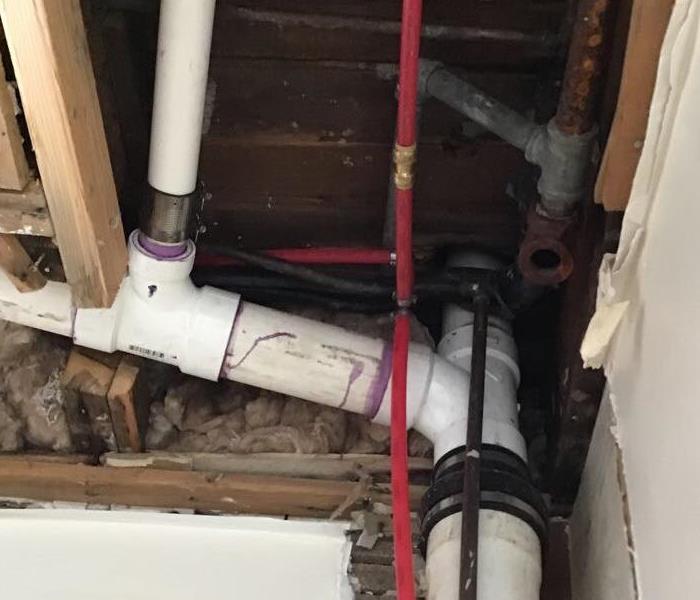 This Lakehurst church had a pipe leak in the ceiling and water damage throughout the first floor and basement.
Our SERVPRO Team Can Help with Efficient Extraction, Drying and Cleaning to Get Students and Faculty Back Quickly
When water losses affect Lakehurst churches, there are so many individuals affected. Each of these disasters can force a temporary shutdown of the facility, or at least closing off a portion of the building. Preventing foot traffic through the damaged area is an essential way for students to get injured by slips or rapidly changing conditions in standing water scenarios.
Water removal for Lakehurst churches involves a blend of talented professionals like our SERVPRO team meeting the changing situation of substantial water damage with advanced tools and technologies. Finding the most efficient method for extraction and drying is our technicians' priority as soon as we arrive at the damaged location. We can establish containment barriers to limit traffic through the drying zone when our professionals begin with mitigation.
What Are the Risks of Standing Water?
Pooling water in any church can be a dangerous situation for the staff and members exposed. Other considerations make standing water a concern for your church. Here are some of the ways that this substantial water loss effect can be detrimental to your facilities:
Structural Deterioration
You might not think about how standing water could affect tile flooring throughout the hallways. This water can be even more compromising when the water loss occurs in areas with concrete floors, unpainted masonry walls, drywall, or when the water damage occurs in ceiling cavities.
Water Migration
Breaks in the plumbing to fixtures like water fountains can deposit high volumes of water on tile flooring, which can spread quickly throughout your school's entire wing. Though its initial position might not be immediately destructive, where water travels could cause considerable damage elsewhere in the building.
Unusable Facilities
Standing water in Lakehurst is too great of a risk for your parishioners, so until resolving the situation, there is little that you can do with this portion of the church. Running at a compromised state puts the strain on resources and the staff to keep meeting the demands of parishioners without space and means to do so more efficiently.
How Do You Remove Surface Water?
As much as you might want to get this situation resolved as soon as possible, considerable extraction needs exceed your custodial staff's available equipment and expertise. By trusting our SERVPRO team to help, we can showcase multiple practical tools and devices that can remove surface water and prepare the area for drying efficiently. Some of these cutting-edge tools in our arsenal are:
Submersible pumps are ideal for when any standing water in your school exceeds two inches in depth. Beneath two inches, more air is getting into the pump than water, making it impossible to maintain an appropriate prime of suction to remove the pool.
With lower depths of standing water, the appropriate tool for removal is the wet vacuum. This vacuum is a versatile piece of equipment that can work as a standalone extractor, but also get fitted with multiple attachments to improve its effectiveness with specific materials. The squeegee wand is an excellent example of one that might get used on the tile and concrete flooring throughout most of the school.
Conventional Sopping Approaches
Several instances in which mopping and sopping up the water might work for any lingering surface moisture. In most cases, our SERVPRO professionals work to remove most of the water present with other strategies before finalizing these efforts with conventional toweling.
Can SERVPRO Help to Resolve the Cause of the Water Damage?
We have skilled professionals on our team that have the knowledge and the experience to repair and rebuild your building after a water loss. Take the time to inspect the origin of the water losses to determine the likelihood of recurrence. Repairs can address both the immediate damage and the use of preventative maintenance. By choosing our team, you are getting:
In-House Contractors
Thorough Inspections
Quality Repairs
How Fast Can Parishioners Get Back After Water Losses?
It is always our priority to get staff and parishioners back to the damaged portions of the facility as soon as possible. Even if the loss incident does not force a total shutdown, it can strain resources and test the available space limitations. We can work efficiently to get you back to preloss conditions faster than you might have expected.
No matter how our professionals can help after a water loss incident, you can reach our SERVPRO of Toms River 24/7 by calling (732) 349-9898.