Can SERVPRO of Toms River save your carpet?
6/7/2021 (Permalink)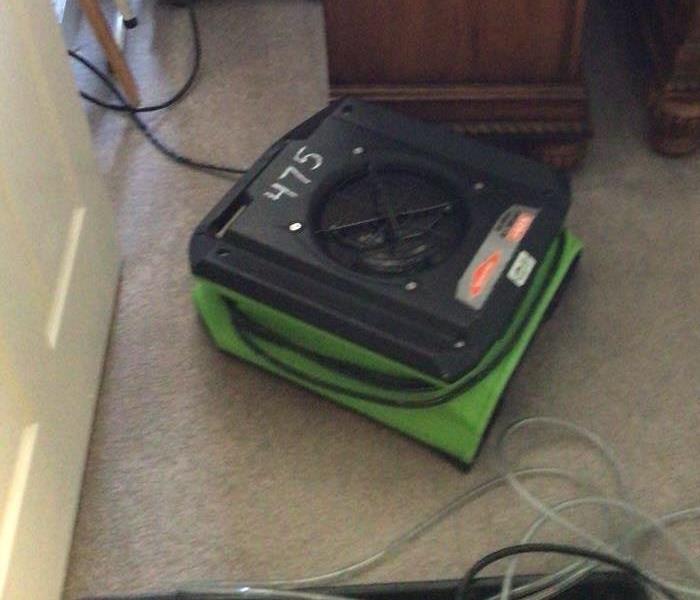 The cause of loss in this Bayville home was a washing machine on the 2nd floor that damaged the carpeting. Drying equipment is in use to properly dry
Bayville Homeowners do not Want to Replace Carpets after Water Removal
The right carpet adds ambiance to your Bayville home. From chic single-color rugs to vivid vintage prints, your choice of carpet brings a room together. Carpets are also notoriously expensive, and replacing them is a hassle, so naturally, you do not want to change carpets unless you have to.
The state of your carpets is a primary concern during water removal in Bayville residence. Carpets are often one of the first things customers ask SERVPRO of Point Pleasant about. Our customers want to know if we can save their floor coverings and whether they will need to make an insurance claim.
There are some situations where it is not possible to save a carpet:
When it becomes delaminated
If it was soaked with water that poses a health hazard, such as water contaminated with raw sewage
If there is extensive mold growth because the water problem was left to fester
Thankfully, in many other situations, it is possible to restore your carpet.
How do we remove water from a carpet?
Our technicians have several methods to get water out of a carpet:
Free-standing and truck-mounted pumps to suck up surface water
Carpet wands to get into corners, and draw water from the top of the carpet
Rotary and free-standing extractors to carefully press the water out
Thorough extraction makes drying faster and more efficient and decreases the risk of mold growth. However, careless extraction can cause damage, which is why we treat your carpets with care.
What is the best way to dry a carpet?
The best way to dry a carpet is by using a combination of:
Air movers and fans
Dehumidifiers
Portable heaters (we do not need these in every case)
Our technicians follow the theory of drying to set up drying zones. We also monitor moisture and humidity levels during drying, and we use moisture probes to measure water in carpets and on the subfloor below.
We certainly can. We train our technicians in a range of carpet cleaning methods, including hot water extraction, showcase, bonnet cleaning, and deluxe precondition and rinse. The best way depends on the carpet fibers and the type of soiling. We test your carpet beforehand to establish the kinds of threads, the level of dirt, and the colorfastness. Our expertise and "restore" versus "replace" mentality can help you save money while preserving your carpets.
If You Have Questions or Need Help,
Call Us Today at 732-349-9898.