Do You Know Why the United States has Fire Prevention Week Every Year?
10/8/2018 (Permalink)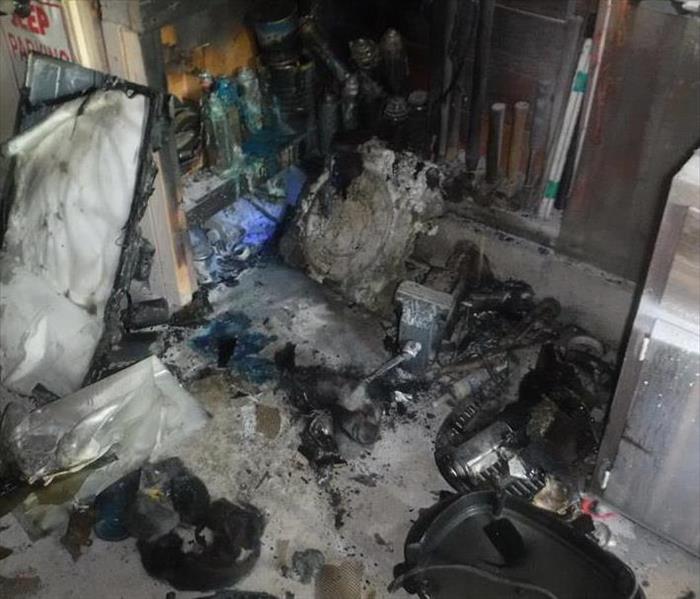 Even a small fire in a garage, like this one in Toms River, can quickly fill your entire home with smoke and soot. Be safe and plan ahead.
Fire Prevention Week (FPW) began in commemoration of the Great Chicago Fire of 1871, which burned from October 8 until October 10 and caused devastating damage to the city. The History Channel reported that this tragedy killed an estimated 300 people and destroyed more than 17,000 structures. There are many theories on what started the fire, including a cow tipping over a lantern in a barn, but the truth is still unknown as to how it began.
This year's Fire Prevention Week will be observed October 7th through 13th. The purpose of this week is to bring awareness to people of all ages and races in order to keep everyone safe. The National Fire Protection Association's theme this year is "Look. Listen. Learn. Be aware. Fire can happen anywhere."
"LOOK" for places fire could start. Take a good look around your home. Identify potential fire hazards and take care of them.
"LISTEN" for the sound of the smoke alarm. You could have only minutes to escape safely once the smoke alarm sounds. Meet at a predesignated meeting spot outside and a safe distance from the home and remain there until safe.
"LEARN" two ways out of every room and make sure all doors and windows leading outside open easily and are free of clutter.
In a fire, mere seconds can mean the difference between a safe escape and a tragedy for your family or friends. That is why not only yourself but all members of your household should understand how to stay safe in case of a fire.
Please join SERVPRO of Toms River in keeping our family and community safe this year. Follow these safety tips on escape planning by the NFPA.
Call SERVPRO of Toms River in the unfortunate event of fire damage at 732-349-9898.