Why Use the Professionals at SERVPRO of Toms River for Your Commercial Water Loss
2/12/2019 (Permalink)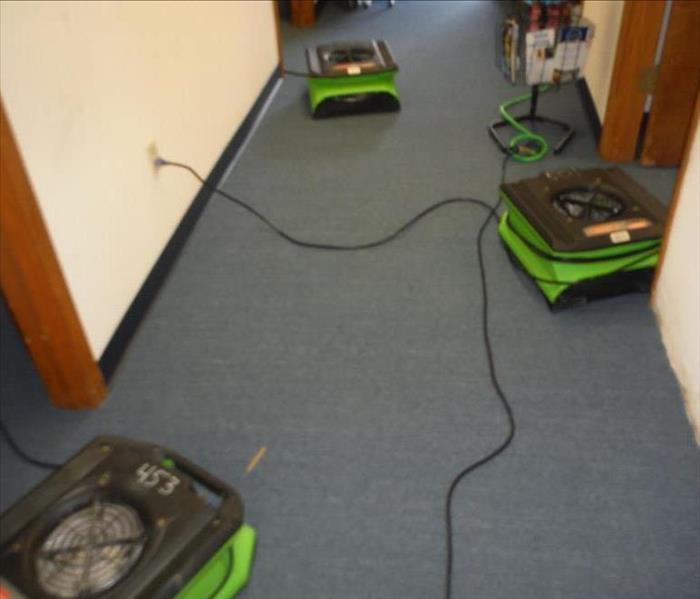 This is just one step in the water mitigation process by SERVPRO of Toms River at this office in Brick, NJ.
From a broken water line to an overflowing toilet, water damage can happen anytime to any commercial property.
You may think that repairing water damage on your own will save your business tons of money, unfortunately, that is not what usually happens. If you do not have the proper knowledge, equipment and training in water damage mitigation and restoration, you can end up causing more damage and significantly increasing the cost of cleanup and repairs.
The extent of water damage can be deceiving as much of it can get absorbed into the porous building materials of the property. Water is stealthy and you may miss it in hidden areas that are not noticeable to human eyes. It can easily find its way into small cracks and crevices causing major damage behind the walls, in the ceiling, and under the floors.
Hiring SERVPRO of Toms River to do the restoration right away will prevent the water from becoming absorbed into the building materials causing extensive damage to your commercial property. Since water damage cleanup is a time sensitive process, you need us there quickly. The longer the water remains, it will aid mold growth and allow secondary water damage to incur. We are available 24/7 for your business emergency. As soon as you notice water damage in your home, call your local us to restore your business to preloss condition and bring it back to "Like to never even happened."