Why Do Frozen Pipes Burst?
2/22/2019 (Permalink)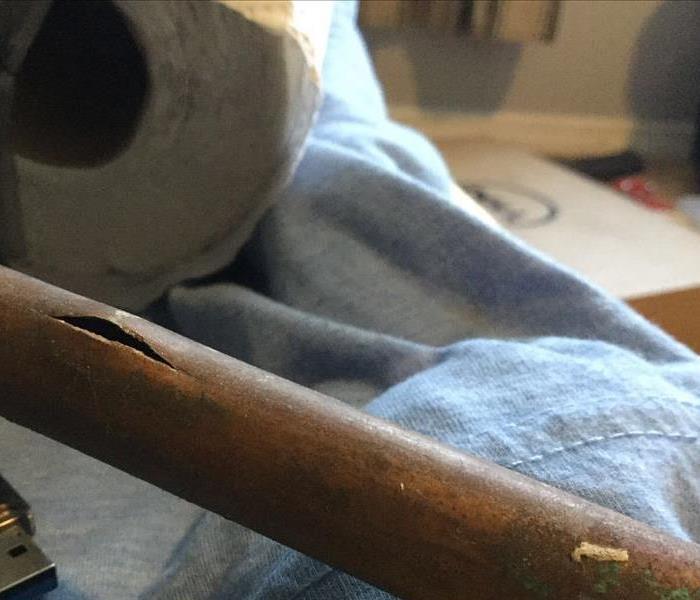 If you have already experienced some form of water damage from a burst pipe, call the water restoration experts at SERVPRO of Toms River.
Freezing cold temperatures can cause serious damage to your pipes of your Ocean County home or business. Unfortunately, burst pipes are a common, serious occurrence in New Jersey.
Why do pipes burst? According to Live Science, when water freezes, its molecules crystallize, which takes up more space than when the molecules are in their liquid form, meaning the water molecules expand as they freeze. As the ice expands, it pushes water toward the closed faucet. This causes an immense amount of water pressure to build between the ice blockage and the faucet. Eventually, the pipe ruptures under the pressure, usually at a spot where there's little or no ice.
While you can't control the weather, you can definitely prepare before disaster strikes. Protect water pipes from freezing by simply allowing water to drip when temperatures dip below freezing. If pipes are under a cabinet, leave the doors open allowing warm inside air to circulate around the pipes. If your building has outdoor faucets, consider shutting off at the main valve in the basement or crawl space. Once the valve is off, open the outdoor faucet to ensure it drains, preventing any remaining water from freezing in the pipe. Also, heating or insulating these vulnerable pipes with fiberglass or foam sleeves ahead of time can help prevent them from bursting.
If water damage does happen in your home or business, call SERVPRO of Toms River. We are water removal and cleanup specialists that quickly dry your property using state-of-the-art water removal equipment and advanced drying techniques.