Will I Ever Recover After This Toms River House Fire?
5/17/2020 (Permalink)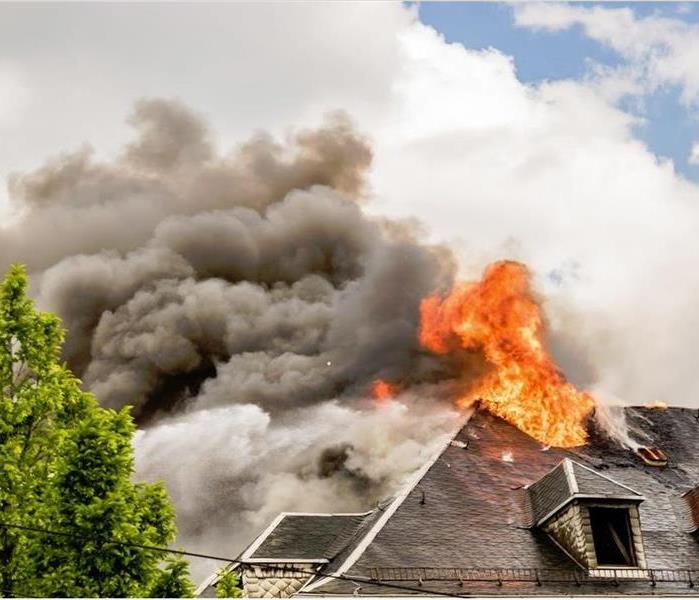 Fire damage can be quite overwhelming when it happens in your home. Call SERVPRO right away after an event.
Fire Damage Specialists from SERVPRO Work Hard to Get You Back into Your Toms River Home
Each fire loss in Toms River is unique, which is why every situation calls for a specialized approach. Whether you have minimal damage to your home or a significant amount, SERVPRO has the training, team, and equipment to handle it for you. Once you call us for emergency service, we deploy a crew quickly that gets started immediately after your structure is deemed safe for entry. We are Faster to Any Size Disaster, and our goal is always to salvage whatever we can.
Why Should I Call for Restoration Services?
Many homeowners do not realize that the fire damage to their Toms River home could be more involved. There might be hidden moisture from the water used to extinguish the fire along with lingering odors from stubborn soot particles and smoke residue. Calling in the help of IICRC-certified professionals helps to ensure no stone is left unturned so that your interior gets refurbished faster. The restoration of your home turns into a collaborative effort when you call our crew at SERVPRO.
When Should I Call for Fire Damage Cleanup?
A house fire in Toms River is an overwhelming experience, but you need to know that you have help waiting for your call. After the first responders tell you that everything is clear, the restoration process may begin. The steps that many homeowners follow include:
Calling SERVPRO to gain the help of our professional fire restoration services.
Contacting the home insurance provider to inform them of the incident.
Waiting to ensure qualified technicians formulate a plan for the best course of action.
Even though you may think it is better to contact your insurance provider first, making the fire restoration team, the first phone call comes with distinct advantages. Our emergency response team springs into action to send a crew to your address. We start immediately to assess the damage so that we can craft an evaluation of your property for your insurance provider.
You can then call your insurance provider to give them all of the details of the incident. We draft paperwork detailing the damage to help facilitate your insurance claim. Additionally, while it might seem like you should start sifting through the damage on your own, it is not advised. Our trained technicians put precautions into place, ensuring that soot and debris do not travel into unaffected areas of your home.
How Does the Restoration Process Work?
Once you have a fire in your home, it may seem like all hope is lost for a full restoration. However, there are several steps that our restoration team takes to bring it back to the pre-fire loss condition. Through each of our stages, we can make it "Like it never even happened."
Debris Cleanup – The aftermath of fire leaves charred materials everywhere. Our team works diligently to carefully remove all debris so that we can work on the next phases without the clutter.
Moisture Detection – Water from extinguishing the fire may have migrated into dry areas. We have moisture detection devices that allow us to find these areas so that proper drying protocols can take place.
Controlled Demolition – If partial damage is present in various construction materials or structural elements, controlled demolition gets the job done. Our team removes part of the fire-damaged materials, and reconstruction brings it back to like-new condition.
Surface Cleaning – This helps to remove staining and residue from various surfaces throughout the fire cleanup. Our technicians use specialized methods and safe cleaning products to make sure that no further harm comes to structural elements or pose the potential threat of health hazards.
Deodorization – Along with the cleaning, deodorization is critical to get rid of burnt odors and smelly smoke particles. We have a range of deodorization equipment and products that help neutralize any tough odors throughout your home.
Sealing/Repainting – Even with the most potent cleaning solvents and products, some cases call for further measures. Our team may reseal or repaint damaged surfaces to keep lingering odors from bringing back constant reminders of the fire.
What Are Some Items in My Home that May Not Be Salvageable?
Even though the physical damage might not be readily apparent, there could be underlying reasons for disposal. Just a sampling of items that most often get disposed of include:
Insulation that has taken on a significant amount of smoke. In some instances, our team may remove the first few inches of insulation and replace it with brand-new materials.
Non-perishable and perishable foods. Any food products exposed to chemicals or heat during the fire will no longer be safe for consumption.
Medications and cosmetics. These are items that may be relatively easy to replace, and it is better to be safe than sorry.
SERVPRO of Toms River is available when you want the advantage of skilled fire damage restoration. Call (732) 349-9898 to have a crew deployed to your home in as little as four hours or less.