We Thank our Toms River Firefighters on National Firefighters' Day and Everyday!
5/4/2021 (Permalink)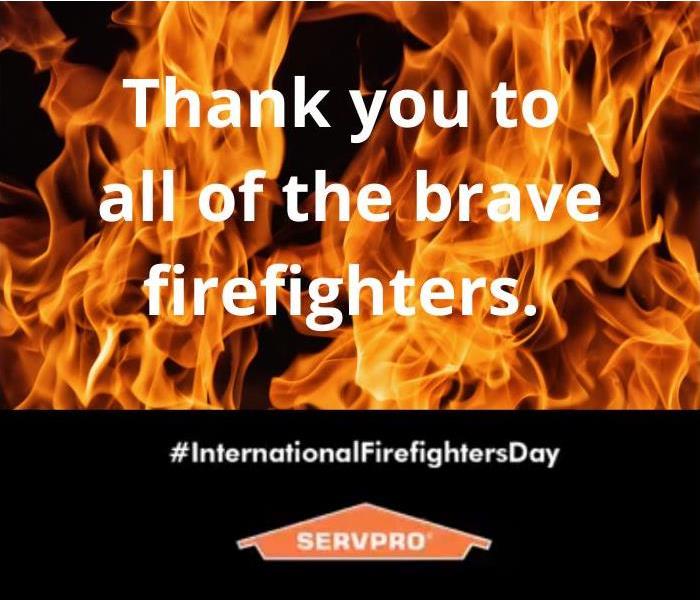 International Firefighters Day, thank you to all Ocean County firefighters for all that you do to protect our community!
To all those brave firefighters that run towards the fire, we thank you! Today is International Firefighters' Day (IFFD) so let's make sure we go out of our way to show them extra appreciation today for all they do for our Toms River community.
On this date (May 4) every year, it is a time for remembrance of the past firefighters who have died while serving our community or dedicated their lives to protecting the safety of us all. At the same time, we can show our support and appreciation to the firefighters worldwide and in our community who continue to protect us so well throughout the year. By proudly wearing and displaying blue and red ribbons pinned together or by participating in a memorial or recognition event, we can show our gratitude to firefighters everywhere. The IFFD ribbons are linked to colors symbolic of the main elements firefighters work with-red for fire and blue for water. These colors also are internationally recognized as representing emergency service.
Today and every day of the year, please follow these easy fire safety tips from the National Fire Protection Association (NFPA) so firefighters will not have to put out a fire at your home:
Watch what you are cooking by staying in the kitchen when you are frying, grilling, or broiling food. If you must leave, even for a short time, turn off the stove.
Give space heaters space and keep fixed and portable space heaters at least three feet from anything that can burn. Turn off heaters when you leave the room or go to sleep.
Smoke outside. Have sturdy, deep ashtrays for smokers.
Keep matches out of reach from children and up high, preferably in a cabinet with a child lock.
Inspect electrical cords and replace cords that are cracked, damaged, have broken plugs, or have loose connections.
Be careful when using candles and keep them at least one foot from anything that can burn. Blow out candles when you leave the room or go to sleep.
Have a home fire escape plan and practice it at least twice a year.
Install smoke alarms on every level of your home, inside bedrooms and outside sleeping areas. Interconnect smoke alarms throughout the home. When one sounds, they all sound.
Test smoke alarms at least once a month and replace batteries once a year or when the alarm "chirps" to tell you the battery is low. Replace any smoke alarm that is more than 10 years old.
Install sprinklers if you are building or remodeling your home, install residential fire sprinklers. Sprinklers can contain and may even extinguish a fire in less time than it would take the fire department to arrive at your home.
The Toms River Bureau of Fire Prevention offers a suite of fire prevention services. Their services include:
Fire prevention and safety education
Fire safety inspections
Fire investigations
Safety hazard removal
Permit application reviews
To learn more about New Jersey fire codes and safety regulations, contact them online.
If you do experience fire damage in Ocean County, call SERVPRO of Toms River as soon as possible and follow these simple tips until we arrive:
Limit movement in the home to prevent soot particles from being embedded into upholstery and carpets.
Keep hands clean so as not to further soil upholstery, walls and woodwork.
Place clean towels or old linens on rugs, upholstery and carpet traffic areas.
If electricity is off, empty freezer and refrigerator and prop doors open.
Clean and protect chrome with light coating of petroleum jelly or oil.
Wash houseplants on both sides of leaves.
Change HVAC filter.
Tape double layers of cheesecloth over air registers.