Can Efficient Cleaning Happen After a Fire in My Toms River Shop?
5/4/2021 (Permalink)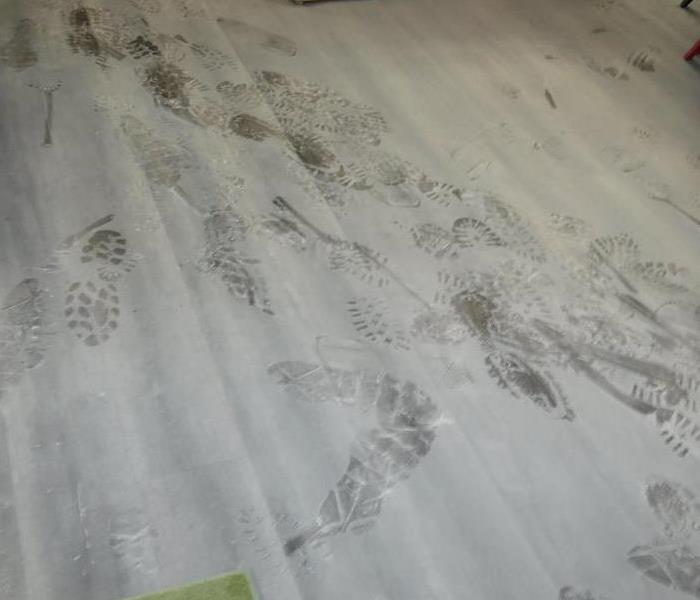 This business has soot damage throughout the building after a fire struck their Toms River property.
Fires Can Leave Your Entire Structure Damaged, Making it Vital to get Cleaning and Recovery Efforts Started as Soon as Possible
After a fire loss incident, cleaning up can often reduce the cost of a fire damage claim for Toms River shops. As restoration professionals, we have seen some of the destructive powers of fire losses throughout commercial properties. This damage can become especially problematic when your wares and stock also become impacted by the structure fire. Fast and direct restoration and cleaning approaches can protect these potentially damaged items and get your doors back open quickly for your customers and staff.
The term fire damage for Toms River shops like yours can indicate multiple problems simultaneously. From the direct structural damage resulting from widespread combustion to lingering residues and coatings on the walls from smoke damage, cleaning is not a one size fits all solution for each building. Despite the obstacles that exist with cleanup and recovery, it is often a more cost-efficient approach to returning your property to the preloss condition when your insurance company has become involved in damage claim efforts.
What Information Gets Collected in the Job Scoping Phase?
The job scoping phase is one of the vital efforts that our SERVPRO team begins as soon as we arrive. This inspection and evaluation of your property help us determine the structure's condition and what must get done to restore it. Careful documentation and readings get conducted during this phase to ensure that all parties, including our fire restoration professionals and the insurance adjusters, know what to expect when restoration and mitigation efforts begin shortly after that. Job scoping seeks to determine:
Environmental Conditions – The conditions in the environment can vary from one fire-damaged structure to the next. Often, circulating particles like soot can have hazardous effects on those exposed. Air quality control, as well as many different emergency services, must occur before other restoration actions can take place.
Content Damage – Because your shop is your livelihood, you are often concerned with how damaged your stock and wares have become. Careful evaluation on an item-by-item basis can help designate which corrective actions can happen on-site in which your content needs restoring in our nearby warehouse.
Structure Damage – There is no mistaking how destructive fires in Toms River can be to the building itself. Structural damage must get addressed as soon as possible because breaches in the building's envelope affect how efficient and thorough restoration actions like cleaning, drying, and deodorization can be.
Estimated Costs – Job scoping is also vital for our project manager and crew chief to determine the work's estimated costs. Documentation of the damage and the corrective actions needed to recover the property helps the insurance company designate the appropriate amounts for the restoration of the building and its affected items.
What Are the Primary Principles of Cleaning Smoke-Damaged Items?
Smoke-damaged items are not uncommon to see after a structure fire in a small shop. Not only can the building's contents become affected by these residues, wall services, counters, and flooring can also become damaged. There are specific factors that we must consider with each of these restoration approaches when cleaning smoke residues:
Identify the Residue – There are multiple types of smoke residues that can impact your property, from wet smoke damage, a thick residue to dry smoke damage, which often appears more like a chalky film.
Identify the Affected Materials – The type of material affected underneath the residue can also impact the cleaning choice made. Specific abrasive cleaning techniques might damage or scratch sensitive surfaces.
Choose Appropriate Cleaning Method – With dozens of possible cleaning approaches for smoke residues, several get implemented on every job site. We have situations where soda blasting can be most efficient, while emulsification with water-based solvents might be best in other areas.
Is Cleaning a Better Choice Than Replacement?
Insurance companies often view restoration and cleaning as more desirable rather than replacement. Replacement indicates that materials or contents have become too damaged to preserve and must get discarded. Cleaning is more than resurfacing and refinishing, although these approaches can be cost-efficient against replacing the materials altogether. Advantages to cleaning include:
Less Money
Faster than Replacement
Desirable Alternative to Resurfacing
No matter how destructive fire damages can be to your shop, our SERVPRO of Toms River team can quickly respond. Give us a call whenever disasters strike at (732) 349-9898.