SERVPRO's Fire Damage Cleanup and Board Up Services
5/26/2021 (Permalink)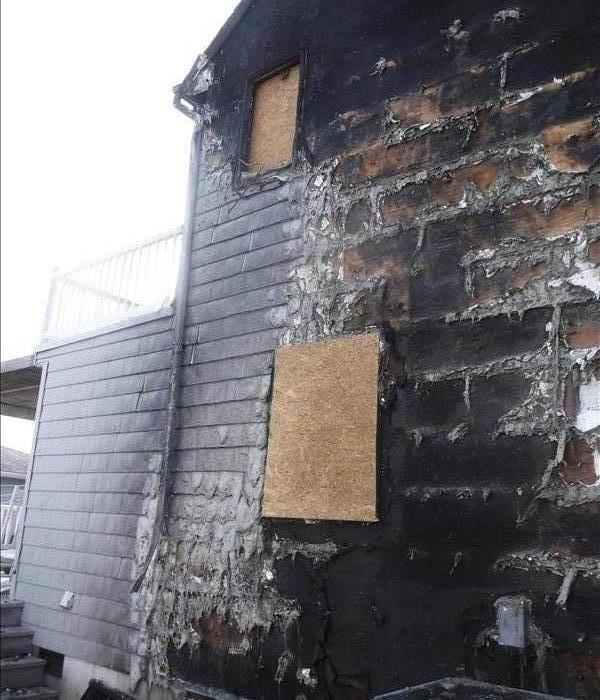 This home in Lavallette, needed board up services after a fire destroyed some windows and melted the siding of the home.
Fire damage does not always mean that your entire home has been destroyed by a fire. Fire damage can be a small one room fire and can also just consist of soot damage, smoke damage and/or water damage that may surface while extinguishing a fire. Not only can fire damage effect your structure but smoke and soot damages also impacts furniture and electronic devices.
After your property is deemed safe to enter by the fire Marshall, it is imperative that you start fire damage mitigation as soon as possible. Not only can fire damage effect your structure, but smoke and soot damages may impact furniture, electronic devices, family heirlooms, pictures and keepsakes. Due to the fact that every fire damage is unique and the surfaces of affected items vary, fire damage cleanup is not something that you should attempt on your own. Let your local fire damage mitigation company take care of this process for you.
SERVPRO of Toms River's fire damage cleanup services include:
24/7 Emergency Response
Emergency Board Up-When your home has suffered damage from a storm, fire or other disaster and cannot be secured, you need board up services to protect your property and prevent additional damages by using the proper supplies to board up windows, walls, and doors
Smoke and Soot Cleanup and Removal- use specialized cleaning equipment
Odor Removal- Odors will cling to a variety of surfaces and may linger in your home long after the fire has been extinguished. The types of materials that were burned will determine what the removal processes for them with will be.
Content Cleaning and Restoration- This process involves cleaning, repairing, and deodorizing items that have been damaged by smoke, soot and water.
Full Documentation
Reconstruction-SERVPRO of Toms River not only handles the cleanup and restoration process after a fire, we will also rebuild and restore your property in Ocean County after a fire.
We use several methods of cleaning your contents, including:
Dry Cleaning - Used for cleaning light residues or to pre-clean prior to wet cleaning.
Wet Cleaning - An effective cleaning method for removing moderate to heavy residues.
Spray and Wipe -Effective for items that can't withstand wet cleaning.
Foam Cleaning - Used for upholstery fabrics that might shrink or bleed if wet cleaned.
Abrasive Cleaning - Involves agitation of the surface being cleaned.
Immersion Cleaning - Contents are dipped into a bath of the cleaning product.
If by chance you experience a fire damage, remember to give your local cleanup pros a call at 732-349-9898. For the past two decades, our proven professionals have been helping customers throughout the state protect their property during this difficult time. Along with decades of experience, we have specialized equipment and cleaning methods to get your property back to it's pre-fire condition quickly. We can swiftly and economically restore your property, completely rebuild and restore your property.