SERVPRO of Toms River Emergency Water Damage Cleanup for Your Business
4/12/2022 (Permalink)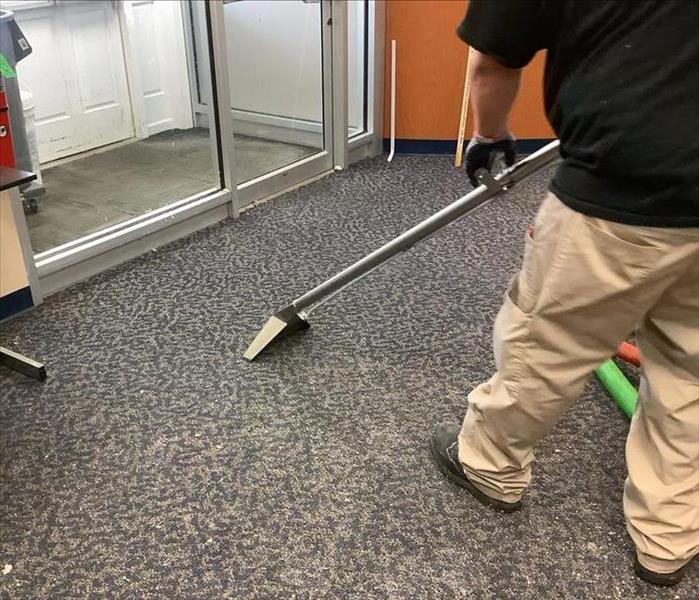 Fire suppression system pipe broke on the second floor affecting the business' entire first floor with water damage.
If you are a Bayville, Beachwood or Ocean Gate business owner, any kind of water damage to your facility needs to be remedied quickly with the least amount of downtime to your daily business functions. A call to SERVPRO of Toms River will help you get water damage repaired and restored in order to minimize downtime and prevent loss of revenue.
What to Expect When You First Call SERVPRO of Toms River for Help After You Experience a Water Damage at Your Business?
With your initial call to our office, we will need to know several important details and information regarding your water damage emergency. This will help us determine what equipment and resources are needed when to arrive on site to begin the water cleanup process:
Your name, contact information and position with the business
Your insurance information, if applicable
Location and street address of your water damaged business
The date you first noticed the water damage
The cause of the water loss, if known
Is power or electricity available
What area or areas have been affected
Whatever size the water damage is to your business, we have the experience and equipment to deal with it. We will help you understand the severity of the water damage to your building so that you're able to make the best decisions on moving forward with the restoration process. Whether you're dealing with minor water damage to your commercial property or a large-loss event, we can develop a restoration plan to help ensure your property is clean, dry and restored to its pre-damaged condition.
SERVPRO of Toms River only uses the most advanced equipment to detect hidden moisture and extract standing water. We will work closely with you and the any other occupants of your building during the restoration process to have as little disruption as possible to your daily business activities.