5 Types of Commercial Restoration to Call SERVPRO For
4/9/2017 (Permalink)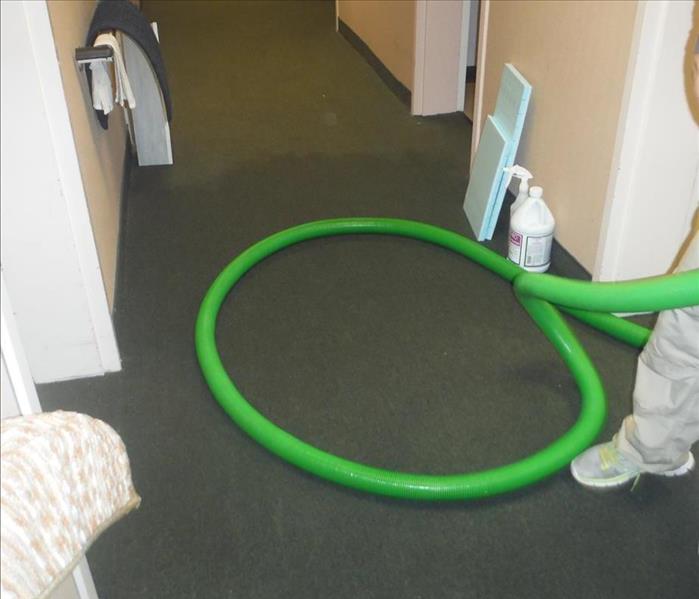 This hallway in a commercial building in Neptune City, NJ is in the drying process from water damage.
5 Types of Commercial Restoration to Call SERVPRO For
Whether you're remodeling, restoring, or just trying to get up to code, calling a commercial restoration service should be your first move. You have to peel back the layers of any building and any damage it's suffered before getting to work. Here are five times to call SERVPRO of Toms River:
Any Sign of Potential Water Damage - If you see a leak that seems like "a small problem," give us a ring right away. A small bit of water leftover from a storm or a leaky pipe is typically a very quick fix, but if you put off taking care of it, it can wreak havoc later on. Here are some preventative water damage tips you can take immediately when you spot the problem.
Immediately After a Fire - Once the fire department wraps up their hard work putting out a fire, give us a call. Our fire restoration technicians are highly trained and ready to get your building back into safe and operating order.
When Interior Humidity Levels Are Rising - If the humidity in your building is above 45%, you're creating the perfect environment for mold, which can spread very quickly. Don't wait until you see it. Sometimes it does not visibly show itself until it's a serious health hazard. If you don't want to rely on your gut instinct, we recommend purchasing a hygrometer. Here's a guide to help you choose one.
Carpet And Upholstery Cleaning - Yes, we do that too! No matter what type of carpet or furniture you own, we have the equipment and the processes in place to get everything clean and fresher than ever.
When You Can't Get Rid of Musty Odors - If you can't find the source of an unpleasant odor, it doesn't mean you're imagining things. A strong musty odor in your building can be a sign of a mold problem. Trust your sense of smell and give SERVPRO a call.
We are available 24/7 at 732-349-9898, so there's no reason to hesitate in taking the steps necessary to maintain your property. The sooner you call, the sooner the problem will be solved!