Here's What NOT to Do After a Fire in Your Toms River Home
7/5/2017 (Permalink)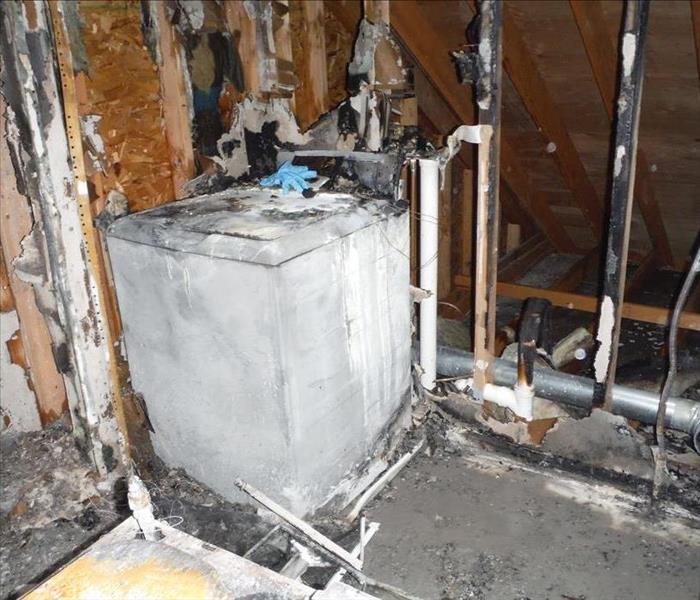 After the fire department deemed this Manahawkin residence safe to enter, SERVPRO of Toms River was there to begin the restoration process.
Here's What NOT to Do After a Fire in Your Toms River Home
After a fire, it's important for you to assess the safety of returning to your home, the hazards that might be present, and the damage to your belongings. But, equally important is what not to do. Here's a quick list of things you might think to do but should refrain from:
Don't Scrub
Walls, painted surfaces, carpeting and upholstery should be left to a professional fire damage restoration company like SERVPRO. Trying to clean them with household products can be counterproductive and cause further damage. We have the proper equipment and experience to get the job done right.
Don't Clean or Test Electrical Appliances
Always consult a repair service before touching or using any electrical appliances that might have been compromised by the fire. Damaged appliances can spark and cause a secondary fire.
Don't Consume Food or Beverages That Survived the Fire
Soot seeps into everything, including the inside of your refrigerator, freezer and cabinets. Any packed or canned items should be discarded. If your electricity is off, let your empty refrigerator and freezer air out by propping the doors open.
Don't Turn on Ceiling Fans
Turning on a wet ceiling will cause additional water damage, and if the ceiling itself is also wet, the wiring might be damaged and dangerous. Try to rely on any natural cross breeze you can achieve rather than risking further damage to or from your ceiling fans.
Don't Send Garments to a Dry Cleaner
Did you know that improper cleaning of smoke damaged clothing can cause the smoke odor to set in permanently? As fire damage restoration specialists, SERVPRO will help you find the right solution for all of your belongings, including your clothes, shoes and jewelry.
Don't Try to Restore Your Belongings Yourself
It takes a true professional to restore a home to living condition after a fire. Don't try to be that professional, especially in the midst of coping with the trauma of a house fire. If your Jersey Shore home and belongings have been damaged in a fire, call SERVPRO of Toms River at 732-349-9898.