Getting Back on Course
5/30/2017 (Permalink)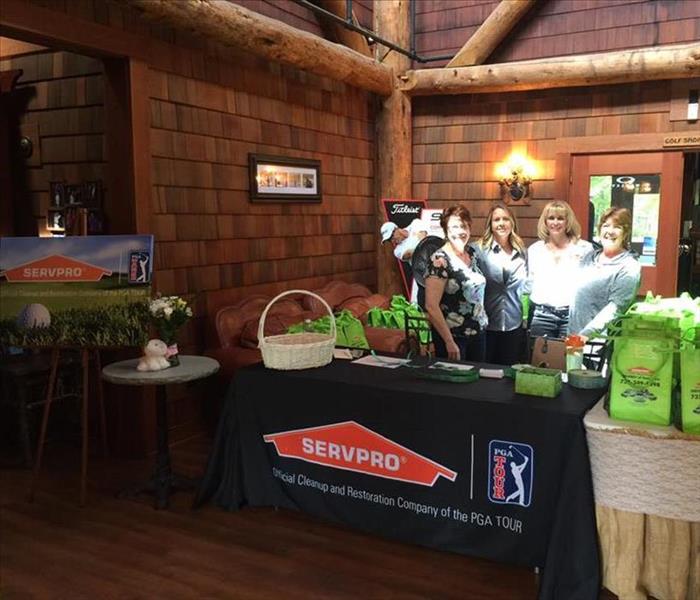 SERVPRO of Toms River all set up and ready to welcome the golfers at the fourth annual Marty Aronow Charity Golf Classic.
Getting Back on Course
A Day on the Green Helps Local Families Have a Happier Holiday
Mold, muck, dust, dirt, water, soot, odors—these are just a few of our favorite things, and we happily spend our days elbow deep in filthy endeavors. But every now and then, we like to ditch the hazmat suits and head outdoors for some fresh air and a good clean game of golf.
And when we can tee off for a good cause? Doubly amazing.
In early May 2017, owner Mike Reilly rallied friends and colleagues to play a round at the fourth annual Marty Aronow Charity Golf Classic, hosted by the Ocean County Business Association (OCBA) and benefiting OCBA's charitable arm, CAREing For Children (CFC).
When we arrived at the beautiful Pine Barrens Golf Club in Jackson, the skies looked threatening, but it thankfully never rained. And while Team SERVPRO's score will forever remain a secret, we had a lot of fun and enjoyed bonding with our teammates and fellow golfers.
Sadly, we did not sink a hole-in-one, which would have qualified us to drive off in a new car donated by Down's Ford. Nor did we win the other contests: low score, longest drive, closest to the pin, putting contest, or beat-the-pro competition.
Our disappointment vanished over cocktails and dinner in the clubhouse, and we salivated over the many exciting prizes available on the silent-auction table.
All in all, it was a wonderful day, which—in the end—helped create a magical morning for hundreds of local families over the holidays.
OCBA: Businesses Helping Businesses
We've been members of OCBA since 2013 and have made many friends and professional connections. It's been an invaluable support system. The group helps us continually learn about the business environment here in Ocean County and New Jersey, discover new resources, and expand our horizons as entrepreneurs.
Aside from being an excellent business and networking organization, the OCBA has a big heart, too, in the form of its CAREing For Children 501(c)3 philanthropy. For many years, we've collected donations from members and used those funds to buy toys, clothing, and food boxes for underprivileged families in Ocean County during the holidays.
These gifts are then distributed through numerous local charities, including DYFS of Toms River and Lakewood, Pine Beach and Beachwood Police Departments, Ocean County Sheriff's Department, and St. Joseph's Church in Toms River. We've put smiles on the faces of thousands of kids and their parents—people who would otherwise have had next to nothing under their Christmas trees.
Since the Charity Golf Classic began four years ago, we've been able to make even more of an impact. The event funnels 100 percent of its profits to CFC. In its first year, we netted $10,000. In 2015, we doubled the amount. That number rose to nearly $26,000 in 2016, and we had record participation of 102 golfers. In its fourth year, we brought in close to $20,000.
Want to play in 2018 or join the OCBA?
The fifth Annual Marty Aronow Charity Golf Classic might be a year away, but it is never too early to join us. Interested? Click here for details.