Every Second Counts: Plan 2 Ways Out!
10/8/2017 (Permalink)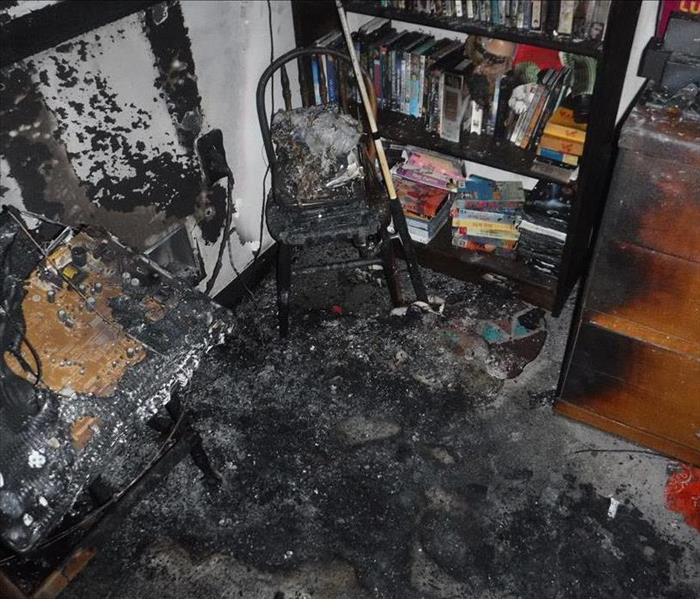 The fire in this bedroom of a Whiting home spread quickly throughout the house. Please plan ahead with 2 exits, if possible, to help save lives.
Fire Prevention Week October 2017
2017's Fire Prevention Week is Sunday, October 8 through Saturday, October 14. The National Fire Protection Association's 2017 theme is "Every Second Counts: Plan 2 Ways Out!"
This year's theme has 6 steps as follows:
Draw a map of your home with all members of your household, marking two exits from each room and a path to the outside from each exit. Visit the National Fire Prevention Association website to get a free PDF of how to draw a map of your home.
Practice your home fire drill twice a year. Conduct one at night and one during the day with everyone in your home, and practice using different ways out.
Teach children how to escape on their own in case you can't help them.
Make sure the number of your home is clearly marked and easy for the fire department to find.
Close doors behind you as you leave – this may slow the spread of smoke, heat, and fire.
Once you get outside, stay outside. Never go back inside a burning building.
If you or your family do suffer a fire call SERVPRO of Toms River. We specialize in fire and water damage restoration and have the specific damage restoration training, personnel, and equipment and can quickly restore your home to pre-fire condition. Visit our website for more information or call us at 732-349-9898.
Please plan ahead to keep your family and loved ones safe. Please visit firepreventionweek.org for more information on Fire Prevention Week.