Common Causes of Commercial Water Damage
2/9/2018 (Permalink)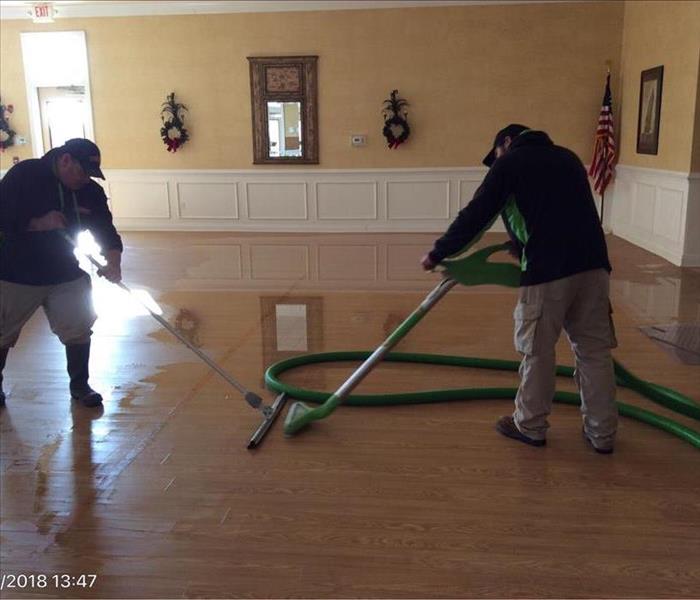 SERVPRO of Toms River is extracting water from a clubhouse in Lakewood, NJ from a sprinkler system malfunction.
Common Causes of Commercial Water Damage
Ongoing maintenance to your commercial property is key to not having water related damage. Even with proper maintenance, there is still a chance that your commercial property could experience water damage.
Listed below are the most common causes of commercial water damages besides weather related storms:
Broken or burst pipes and plumbing-water rushes out of them, spraying or leaking water throughout the building
Sprinkler systems-any time there is a fire and the sprinklers activate, there will be water damage or the sprinkler system can malfunction and activate on its own
Malfunctioning appliances such as refrigerators and dishwashers-when these appliances fail, they can leak a significant amount of water, flooding the entire room or more
Sewer lines-It is not uncommon for the sewer lines to get backed up, releasing contaminated water into the building
Whenever water damage is experienced, you need to take immediate action. You have to determine where the source of the water is coming from first before you can begin the water remediation process.
Water damage is not something that you want to happen or plan to happen to your commercial property. When it does, you want to hire the right company to clean up the water damage to prevent further loss and get your business back to normal as quickly as possible.
Call us 24/7 at 732-349-9898 for your commercial water damage emergency.