Cooking Fire Restoration and Cleanup
2/16/2018 (Permalink)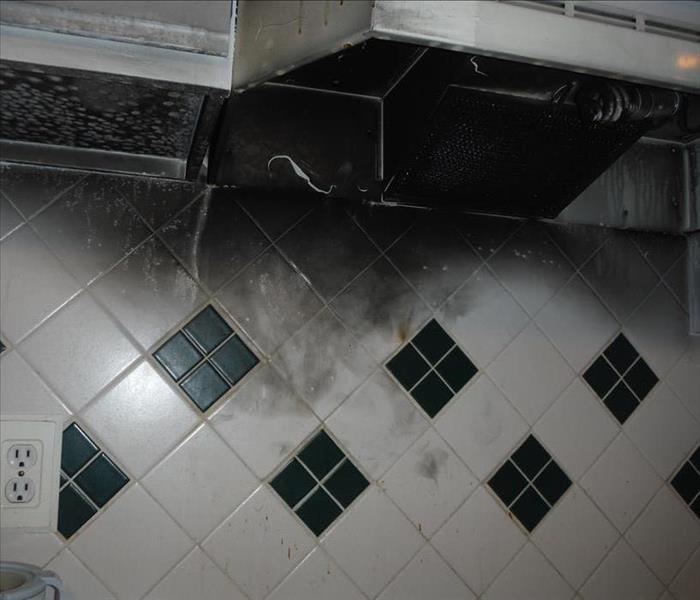 This small cooking fire in Bayville, NJ caused significant smoke and soot damage throughout the home.
Cooking Fire Restoration and Cleanup
Cooking fires are the number one cause of home fires. Unattended cooking is the leading cause of fires in the kitchen.
Always cook with caution. Make sure you are focusing on your cooking and not sleepy, distracted, or drinking alcohol. Keep anything that could catch on fire away from your stovetop, such as oven mitts, towels, wooden utensils, food packaging and combustible items. Stay in the kitchen and use a timer to remind you of cooking times. If you need to leave the kitchen, even for a short amount of time, turn off the stove.
If a fire does break out in your kitchen, please remember these simple tips:
Keep a lid nearby to smother a small grease fire on the stovetop. Carefully slide the lid over the pan and turn off the stovetop. Leave the lid on until the pan cools completely.
Keep the oven door closed and turn off the heat in the event of an oven fire.
Leave! Get out as fast as you can and if possible close doors to try to contain the fire.
Call 911 or your local fire and police departments from outside your home.
Fires are not just frightening while the flames are blazing. The aftermath of a fire can be scary and devastating. Seeing the smoke, soot and water damage left behind can be heartbreaking. Even though the fire occurred in the kitchen, the entire house will need inspecting for both seen and unseen damage.
One of the biggest challenges after a kitchen fire is that you often have smoke and soot which leaves a residue made up of more than one type of material. Understanding how to best clean these residues and the proper tools to use is what SERVPRO of Toms River, your local fire damage cleanup company, does on a daily basis.
Another difficult challenge may be the extensive water damage from firefighting efforts. The water removal process begins almost immediately after the structure is safe to enter. This process removes the majority of the water. We then use dehumidifiers and air movers to remove the remaining water and complete the drying process.
We hope you never have to experience a cooking fire, but if you do, SERVPRO of Toms River will be there to treat you and your loved ones with respect and empathy, and will always treat your home and belongings with care throughout the restoration process.