Corroded Pipes at Local Dental Office Cause Water Damage
8/1/2018 (Permalink)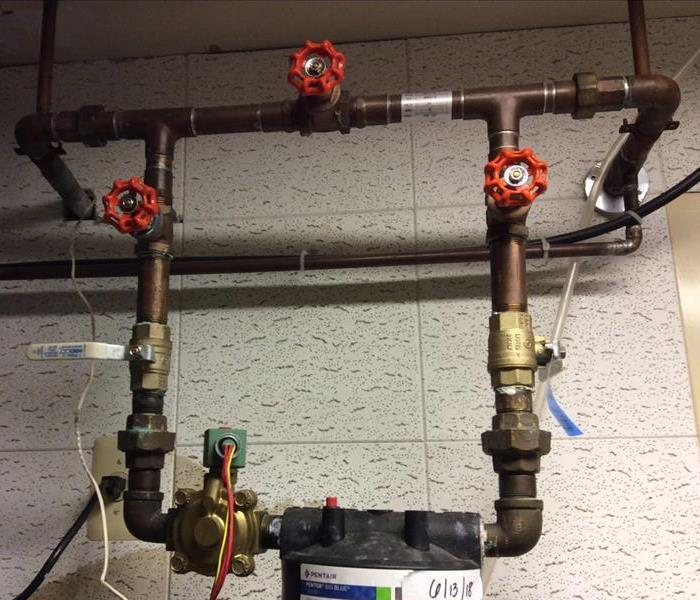 A local dental office in Bayville, NJ was surprised to find water damage on the their floors when they returned to the office.
A commercial dental office had a flood in areas of their building caused by corroded pipes attached to the water filtration system. Corrosion of pipes is due to physical and chemical reactions between the pipe material and water. In simple words, the metal from the piping dissolves into the water from various causes. Depending on the degree of the reaction, a new piping system can show signs of corrosion in as little as two years. If you are dealing with an older home, corrosion is always a risk. With corrosion comes restricted water flow and in extreme cases, cruddy water.
The rate of pipe corrosion is commonly associated with the following factors:
Alkaline water, with a high pH level above 8.5.
Acidic water, with a low pH level under 7.0.
An elevated level of dissolved oxygen in the water.
A high level of dissolved salts in the water, known as Total Dissolved Solids (TDS).
Electrochemical issues, most commonly improper grounding of appliances and/or lightning strikes that pass through utility grounding wires.
Bacteria that can cause corrosion, such as iron bacteria and sulfates.
Hydraulic wear, caused by materials, such as grit, sand, and sediment, moving across the surface of the pipe.
High velocity water, relative to the pipe size that causes hydraulic wear on the pipe surface, sometimes caused by pumps in hot water systems.
An incorrect copper piping installation, where the ends of the pipe were not deburred or reamed and/or excessive acidic flux when the pipes were soldered together.
There is never a convenient time for water damage to strike your business. Every hour spent cleaning up is an hour of lost revenue and productivity. SERVPRO of Toms River has the training, experience, and equipment to handle large commercial flooding or water damage emergencies. Whether your water emergency occurs in a small office building or big box store, we will respond quickly to mitigate the damage and manage the restoration project through to its completion. In an emergency, give us a call 24/7 at 732-349-9898 and we will be there fast with the help you need.